Meetings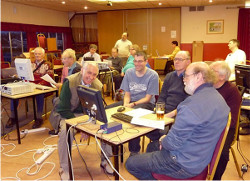 Wakefield RISC OS Computer Club meets on the first Wednesday of every other month: February, April, June, August, October and December. Our meetings usually consist of a talk or demonstration, with plenty of time for informal discussions and trips to the bar before and after.
Recent meetings have included visits from major RISC OS hardware, software and operating system developers, along with demonstrations of specific pieces of software by experienced users. In addition, we have covered a wide range of other subjects including digital photography, hardware upgrades, networking and problem solving. More information about the topics covered in recent meetings can be found further down the page, and details of future meetings can be found below.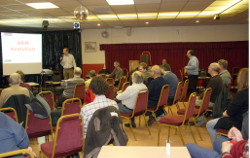 Meetings start at 7.45pm, at the West Yorkshire Sports and Social Club in Wakefield. Doors open at 7.15pm, and the scheduled part of the evening is generally complete by about 10pm. See the directions to the venue for details of how to find us.
Visitors are always welcome to attend our meetings (with the exception of the AGM). There is a small fee on the door for non-members – see the Join Us page for details.
Forthcoming meetings
The following meetings are planned for the near future (note that presentations may be re-scheduled due to events outside of our control).
COVID-19 update
During the COVID-19 (coronavirus) pandemic, WROCC is following UK Government guidance and this is having an effect on our activities. Meetings are currently suspended, and we advise members and visitors to keep an eye on the website, newsletter and announcements through email or the usual RISC OS forums for updates.
Recent meetings
WROCC's meetings cover a wide range of topics relating to RISC OS and computing more generally. Here are some of the events from recent months; for a longer list including some links to more detailed reports, see our past meetings page.
June 2020
In WROCC's first "virtual meeting", Steve Fryatt looked at what can be found on the disc of a RISC OS Direct system.
April 2020
Mike's visit to Wakefield had to be postponed due to the Covid-10 pandemic.
March 2020
Tony Bartram of AMCOG Games came to tell us about his latest projects, including the new Star Mine and Scuba Hunter titles released at recent RISC OS shows.
February 2020
An evening of many parts. Ian Stanley looked at interfacing various electronic circuits to RISC OS systems, whilst Ruth Gunstone was investigating the possibilities of an Arduino starter kit that she had recently acquired. Timothy Baldwin had RISC OS running under Linux on a laptop, and both Peter Richmond and Kev Smith were showing their new ARMbooks to those who were interested. Dave Barrass showed the recent advances in YouTube support on the platform.
January 2020
The WROCC Annual General Meeting was a chance for members to elect the committee for 2020, and to have their say on the running of the Club.